I most of all dislike the frost blade skin because it feels like a snow day skin and she has feathers on her boots that look so out of place I can't stand it. Now it's completely different, and I really don't like this purple color in it. The fur makes the skin look more of a snowdown skin than a frost skin. The more the merrier! I mean, why else would they do that? Walmart Woad Quinn and what's with the skin color?
| | |
| --- | --- |
| Uploader: | Meztimi |
| Date Added: | 12 November 2011 |
| File Size: | 29.52 Mb |
| Operating Systems: | Windows NT/2000/XP/2003/2003/7/8/10 MacOS 10/X |
| Downloads: | 95341 |
| Price: | Free* [*Free Regsitration Required] |
MODERATORS
So far I liked every single reworked since, especially because they managed to keep the characteristics of the skins. The fur makes the skin look more of a snowdown skin than a frost skin.
I dont know what it is, because it covers it too much. Instead, they gave her winter clothes. Made a post on it here:. This one is just awful, what was riot thinking of the fur.
New Frostblade Irelia is a huge disappointment : leagueoflegends
I can't even tell how they supposedly improved it. So not only is it not recognizable as Frostblade I can appreciate that they tried to reinvent the skin, but nobody asked for that.
I'd honestly rather use the basic skin than this abomination. I was so sad: I understand Riot is trying to recreate a champion's skins when they are reworked in order to make them feel fresh and exciting, however the reworked Frostblade might as frodtblade be ire,ia Snow-Day or Winter-wonder themed skin at this point due to the white fur and purple clothing. It's not like it was bad. I feel bad for Irelia.
I main irelia and have all her skins. It would be fine if this was a new skin but at this point i just woulnt buy it.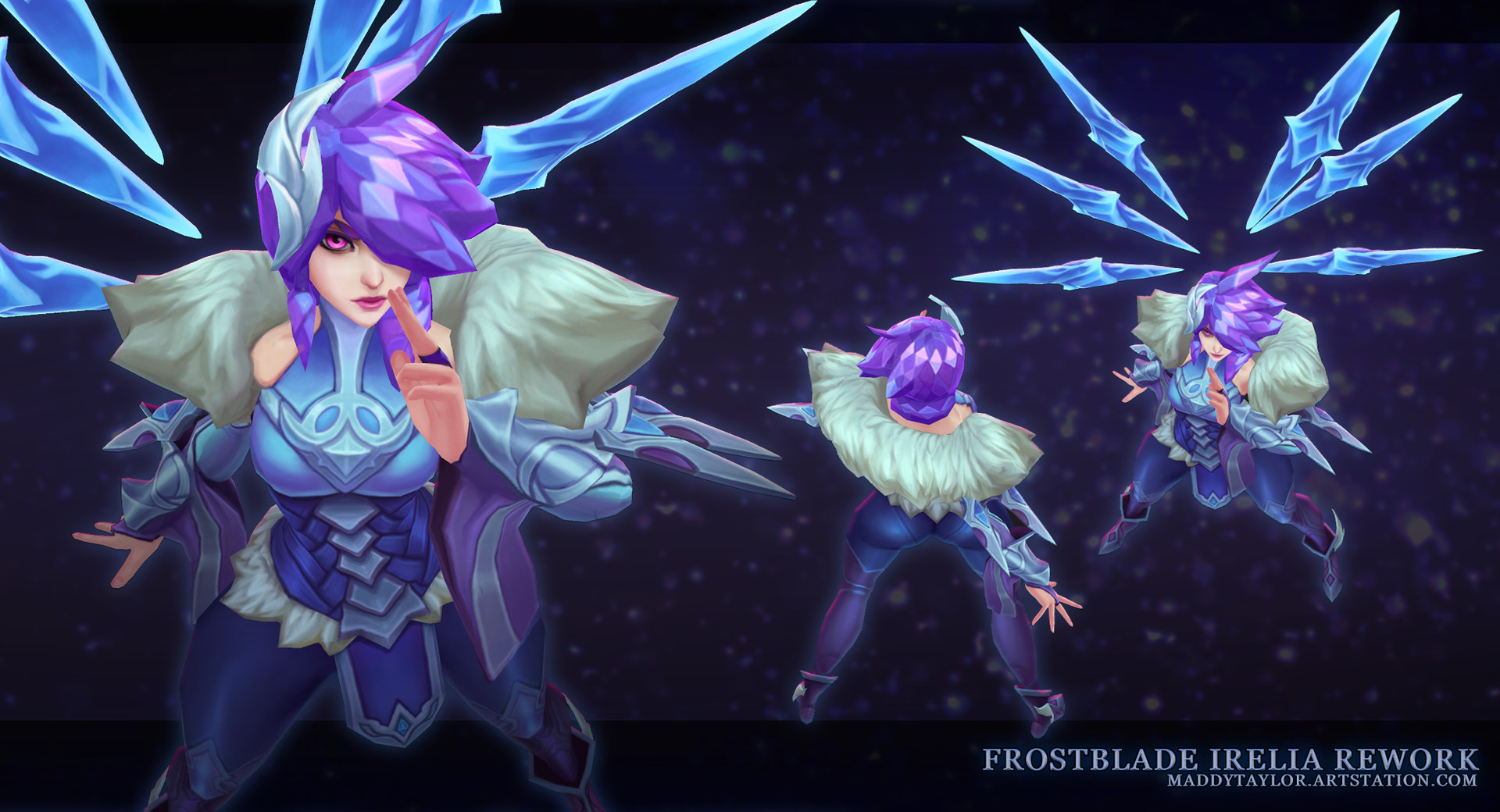 I had just bought Frostblade Irelia from "Your Shop", ahh the regrets are starting to come. I'm quite disappointed too to be honest.
Skin showing on arms. Yeah as someone with over k points on irelia I was really disappointed in how some of the skins turned out.
Nightblade has a sick model and hair, but her animations and particles are dull and lackluster. Please RITO, i believe in you.
I need to say I still like the fact that you guys kept her butt somewhat highlighted, but the original was so much better. I miss the cybernetic feel of the original skin as well.
Frostblade Irelia :: League of Legends (LoL) Champion Skin on MOBAFire
Also way too much purple and not enough dark blue like the original. I may get downvoted for this, but, what do you expect when the majority of the time most of the sub is just asking to keep the booty part of the skin in Rito's ears to the point where that's all they're gonna focus on. More resources Theme selection This subreddit is night mode compatible.
It's nice art in its own right ,but it doesn't stand up to the original and is quite disappointing. Why did they need to change Frostblade? Plus make the hair longer. I just want a refund at this point. I think it is pretty obvious what happened. Riot adopted the meme that the main thing the skin had going for it was the butt, so they disregarded everything else.
Help Support
It just doesn't look like Irelia at all to me in the face. The color palette falls more in line with winter wonderland karma, which could be good and bad depending on what they were going for my opinion is bad.
Nightblade's splash is fucking badass, but ingame the infiltrator model is easily the best, specially irelai blades, it just looks so cool, I'm thinking of buying it, and I already own nightblade. She looks like she is dressed up for winter.